MALIAN DIASPORA
What is a diaspora?
The International Organization for Migrations (IOM) defines diasporas as "migrants or descendents of migrants whose identity and sense of belonging, whether real or symbolic, have been forged through their experience and migrant provenance".
The term "diaspora" is currently used generally to discuss individuals who identify with a "country", but live outside of it.They are also called expatriates or transnational communities.
Characteristics of a diaspora:
They migrate, either by force or voluntarily, from a country of origin in search for work, to trade or escape conflict or persecution.
They conserve an idealized collective memory or a myth regarding ancestral homes.
They maintain a continual connection with their country of origin.
They have a strong group consciousness that remains over time.
They maintain contact with members of the diaspora that find themselves in other countries.
MALIAN DIASPORA
Mali has always been a country with a large tradition of migrations. According to ONU, the country has 1.264.700 emigrates, which represents 6.63% of the population of Mali. Masculine emigration is superior to the feminine emigration, with 56.91% of emigrants being men and 3.08% of emigrants being women.
The emigration of Mali has been directed especially to the Ivory Coast, where 41,29% go, followed at a distance by Nigeria, the 13,34%, and Mauritania, the 8,56%.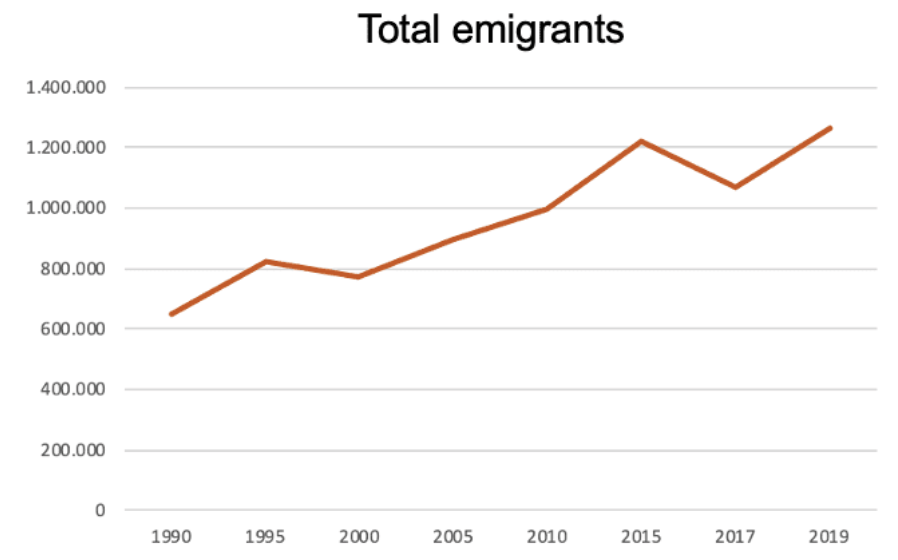 Some of the factors that impulse migration in Mali include economic, environmental and warlike characters. The armed conflict that was initiated in the north of Mali in January of 2012 caused a migratory crisis of considerable scope and magnitude both inside and outside of the country. War caused a massive displacement of the population in the three northern regions of Mali towards the center and southern region of Mali and also in the neighboring countries. Almost half of the population was displaced including 300.000 internal displacement and more than 175.000 sought out refuge in neighboring countries.
OIM MISSION IN MALI
It was created in 1988 and currently has 100 officials, a main office in Bamako and three sub-offices in Mopti, Tombuctú and Gao. Since the start, OIM has worked in hand with the government of Mali to satisfy the necessities of the most vulnerable and help face the challenges of migration like forced migration, irregular migration, human trafficking, illicit migrant trafficking, among others.
The mission works to guarantee:
Humanitarian assistance, where there is follow up and monitoring of internally displaced peoples.
Protection of the populations affected by the crisis, especially women and children.
Emergency assistance for displaced populations and the host communities.
Early recovery and community stabilization in regions with the highest number of displaced and returned peoples.
HIGH COUNCIL FOR MALIANS ABROAD
Mali is a country with a strong migratory tradition where extensive communities of almost 4 million people exist abroad. In 1991m Malians abroad decided to create and install a federal agency called the Superior Council for Malians Abroad (SCMA). This integration instrument attempts to provide answers to the problems that malians, outside of their country, face. At the same time, they serve as a link between public authorities and Malians abroad within their host countries.
Other functions include:
Represent Malians abroad before national authorities and institutions;
Reunite all the Malian citizens that reside abroad without distinction in their regional origin, ethnicity, social status, gender or profession;
Promote unity and solidarity among Malians abroad;
Help Malians abroad in their countries of residence;
Encourage their contribution to the economic, environmental, social, cultural and sport development in Mali;
Promote peace and integration between countries.
CONTACT
BP: 762 Bamako (République du Mali )
Tél: (+223) 20 23 50 37 – Fax: (+223) 20 23 50 37
E-mail : hcme2012@yahoo.fr
MALIANS IN SPAIN AND CATALONIA
Spain and Mali hold diplomatic relations since 2006. Mali has its own embassy in Madrid and three consulates in Madrid, Barcelona and Santa Cruz de Tenerife. Its diplomatic representation in Spain began in order to strengthen relations between Mali and Spain and to guarantee assistance for Malians living in Spain. Nevertheless, Spain has only an embassy in Bamako.
According to the "Instituto Nacional de Estadística", census data show 27,230 Malians living in Spain. In Catalonia there is a total of 7.916 residents. Most of them live in Barcelona county, followed by Lleida, Girona and Tarragona.